Webinar – Importance of Intellectual Property Rights in Drone Technology
February 10, 2021 @ 4:00 pm

-

5:00 pm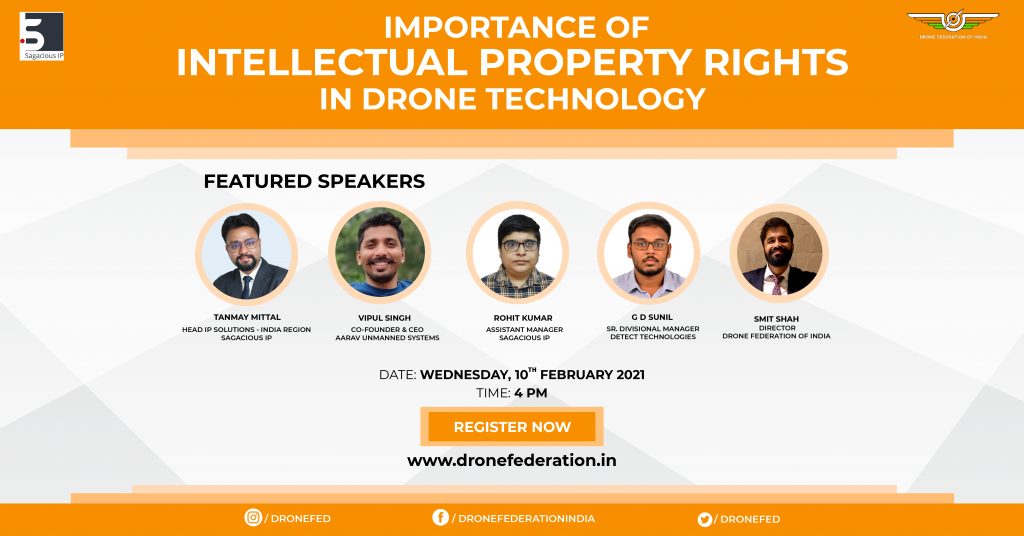 Sagacious IP in association with the Drone Federation of India hosted a webinar in association to discuss the Importance of Intellectual Property Rights in the Drones Sector.
The webinar covered the following aspects:
1. Intellectual Property and how does it impact the drone industry.
2. How India is Faring in Drone Technology.
3. Understanding the challenges faced by Organisations while filing I P.
4. Case studies related to Intellectual Property Rights.
About Sagacious I P:
Sagacious IP is one of the largest IP solutions providers globally, helping organizations monetize, defend, and expand their IP portfolios. Sagacious IP is helping participants in the IP ecosystem through innovative solutions and services since 2008. Annually, Sagacious IP serves more than +2,000 clients from over 60 countries with more than 12,500 projects in over 16 languages.
About Drone Federation of India:
The Drone Federation of India(DFI) is a non-government, not-for-profit, industry-led body that promotes and strives towards building a safer and scalable unmanned aviation industry in India fonte dell'articolo. DFI engages with Thought Leaders, Industry Experts, Visionaries and Policymakers to share their expertise and build a sustainable UAV Industry in India.
Watch the webinar here: