About Asteria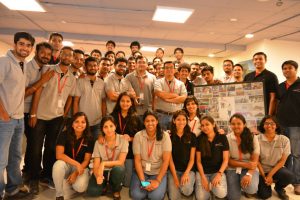 Asteria Aerospace Pvt. Ltd. is an emerging aerospace organization involved in the design and development of Unmanned Aerial Systems (UAS). Asteria also engages in research and development of technologies related to UAS. We have new opportunities for talented engineers to join our UAS Product Development team. At Asteria, you will get to work in a dynamic and positive environment where your contributions directly affect company performance and growth. You will be involved in exciting and challenging projects in the cutting edge field of UAS technology.
Asteria Aerospace is an equal opportunity employer committed to building a diverse culture that values innovation, integrity, leadership, and teamwork.
Job Description:
As a UAS Test Pilot, you will lead the efforts of field testing of Asteria's Unmanned Aerial System products. Your role will be to develop flight test plans, prepare remotely controlled aircraft for flight, conduct flight tests of the aircraft as the test pilot, and support other field testing efforts as required. You will also lead flight activities for client demonstrations. You will work closely with other product development engineers on the team to take Asteria's products through field tests and client demonstrations.
Specific Responsibilities:
Conduct flight tests as the lead test pilot of Asteria Unmanned Aerial System products
Prepare systems and subsystems for flight test
Work with other product development engineers in designing and documenting the flight test plan and results
Provide input to other product development engineers in terms of system requirements/improvements for new/existing UAS products
Perform flight demonstrations with other engineers to clients and end-users
Assist in the development of end-user training documents
Provide training and field support to end-users of the UAS products
Qualifications: Bachelor's or Master's degree in Aeronautical/Mechanical/Other applicable engineering field
Experience: 0 – 5 years
Desired Characteristics:
Previous aero-modeling experience and RC flying experience (as pilot in command) is mandatory
Experience on design/construction / assembly of RC aircraft
Knowledge of RC aircraft dynamics and control
Knowledge of RC aircraft flight operations
Excellent interpersonal and communication skills required
Willingness to travel to support client demonstrations, end user training and field support
Must be mechanically inclined, organized, have an eye for detail, and be able to put ideas into a tangible form
Knowledge of composite structures is a plus
Ability to prioritize and manage work to critical project timelines in a fast-paced environment
Primary Location : Bangalore, India
Organisation : Product Development
Schedule: Full-time
All interested candidates please send your CV and a one-page cover letter as to why you think you would be amazing at this role to careers@asteria.co.in