Collaborative Funding Initiatives by GITA for the Drone Industry
June 7, 2021 @ 8:00 am

-

5:00 pm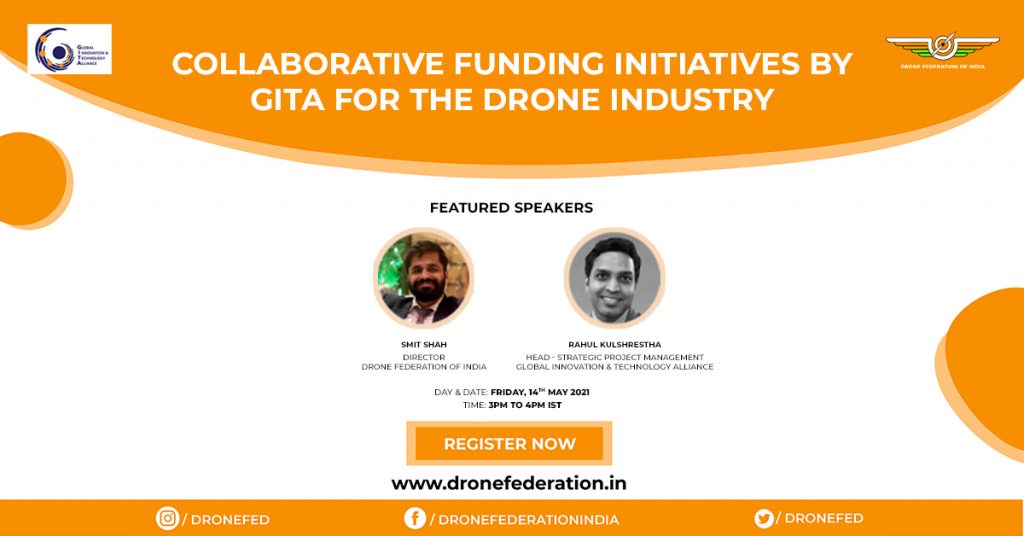 Summary:
Global Innovation & Technology Alliance (GITA) in association with the Drone Federation of India hosted an awareness session on Collaborative Funding Initiatives by GITA for the Indian Drone Industry. The organisation's elaborate funding schemes for technological innovations in the field of drones has established a promising precedent towards encouraging innovators who already have a project in the pipeline but are actively eyeing for co-development and research support.
This webinar covered the following aspects:
1. Introduction to GITA & its initiatives
2. Funding initiatives and program structure
3. Glimpses of previously funded projects
4. Q&A
About Global Innovation & Technology Alliance:
Founded in 2011 on the recommendation of the Prime Minister's Council on Trade & Industry, GITA is a "not–for–profit" Public-Private Partnership (PPP) company promoted jointly by the Technology Development Board (TDB), Department of Science & Technology (DST), Government of India, and the Confederation of Indian Industry (CII) which manages the government's fund to support industry in their Research & Development initiatives through mapping technology gaps, undertaking expert evaluation of technologies available across the globe, and facilitating techno–strategic collaborative partnerships appropriate for the Indian economy. The organisation also enables industrial and institutional partnerships along with providing soft funding for technology development/ acquisition/ deployment.
Watch Here: